Please note that this is a historical account of this venture, and it is unfortunately no longer active.
Introduction
My partner, Mos Day, has started up StageWRite here in the Aldinga Bay area. The idea being to create a meeting place on-line for artists, performers, musicians, songwriters& technicians in the local area. StageWRite will also be bringing performance writing workshops to the region, as well as working with local theatre companies to develop scripts and stagecraft skills.With the StageWRite website as a place to meet others of similar interests, and a place to put yourself on line without charge, collaborations and communications between the local performance arts community will be made easy.
Promote Yourself Free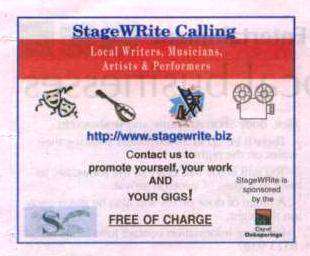 StageWRite Articles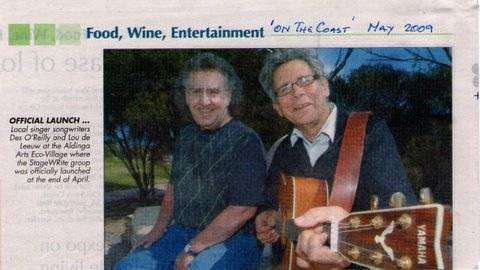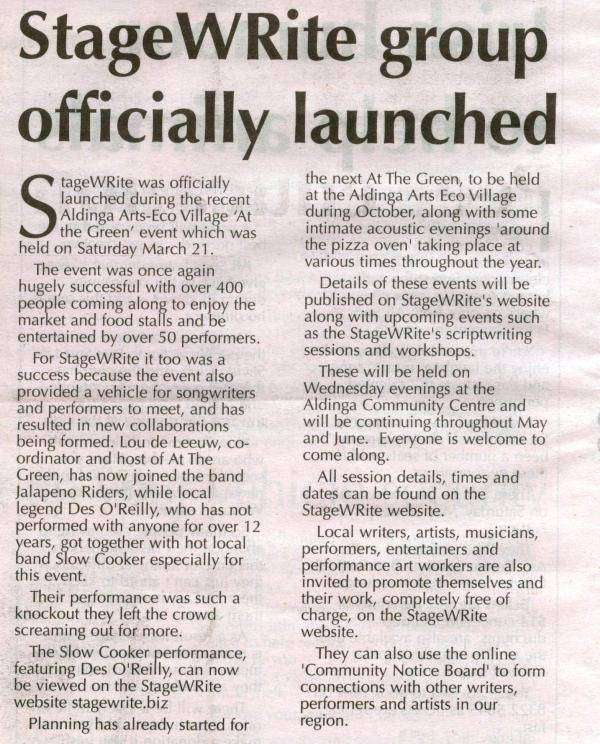 ---
---
---
StageWRite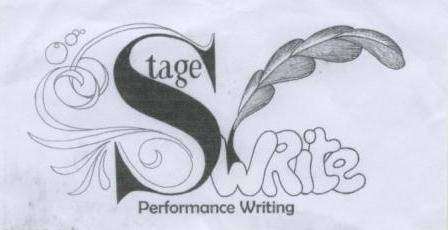 StageWRite is a completely new, community focused,performance writing group, based in the Aldinga Bay region of the Fleurieu Peninsula.

Aldinga Bay is blessed with many fine performance artists,writers, actors, directors, entertainers and musicians, and it is from this group of arts workers and performance artists that StageWRite was conceived.
Currently performers and performance writers who are based in the Aldinga Bay region have limited opportunities to come together and collaborate on projects, or to form strong local connections within their own community, with local businesses and other performance artists.

Aldinga Bay Vineyards by the sea.
Similarly, there are limited opportunities for Aldinga Bay residents to be able to access, or to participate in, performance based activities without having to travel outside of their own region. With a local performance writing group based here in Aldinga, local cultural and artistic activities could be developed which, in turn, would help to strengthen the local performing arts community and provide them with opportunities to generate economic activity.
StageWRite have recently received funding from the City of Onkaparinga toprovide a number of 'Performance Writing' workshops at the Aldinga Community Centre, Symonds Reserve, in 2009. These workshops will be offered to all members of the local community, so that everyone, from the very young to the not so young, can come along and enjoy the fun.
Aldinga Bay
In addition to these workshops, StageWRite is able to provide their website as an online 'gathering place', whereallWine Coastartists, performers and entertainers can promote themselves and their events, or form local collaborations or partnerships with other local performance artists and writers, with the aim to bringperformancearts to all who live, work and play in the Wine Coast district of the City of Onkaparinga.
StageWRite Performance Writing Sessions
StageWRite will bepresentinga series of performance writing sessions in 2009 at the Aldinga Community Centre, beginning in March. Each session will be hosted by StageWRite performance writers who will be joined by other performance professionals, (directors, performance artists, designers and technicians), to help session participants produce their own piece of performance writing for stage, screen or multi-media. Only $10 per session.
Please contact session co-ordinator, Mos Day, to book your place.
Email: [email protected]
Web: http://www.stagewrite.biz


StageWRite Performance Writing Session Dates & Times
Songwriting Sessions
Wednesday 25/03/09 7.00pm – 8.30pm
Wednesday 01/04/09 7.00pm – 8.30pm
Scriptwriting Sessions
Wednesday 29/04/09 7.15pm – 8.45pn
Wednesday 06/05/09 7.15pm – 8.45pm
Wednesday 20/05/09 å.15pm – 8.45pm
Wednesday 27/05/09 7.15pm – 8.45pm
Wednesday 03/06/09 7.15pm – 8.45pm
Workshop Sessions
Wednesday 17/06/09 7.00pm – 8.30pm
Wednesday 24/06/09 7.00pm – 8.30pm
Email: [email protected]
Web: http://www.stagewrite.biz