I have just found out that Sir Tom Finney Preston North Ends best ever player passed away on Feb 14 2014.
Here is a tribute video put out by Preston North End:
I watched Sir Tom play throughout the 50s right through to his retirement in 1960.
He was without doubt the very best player I ever saw.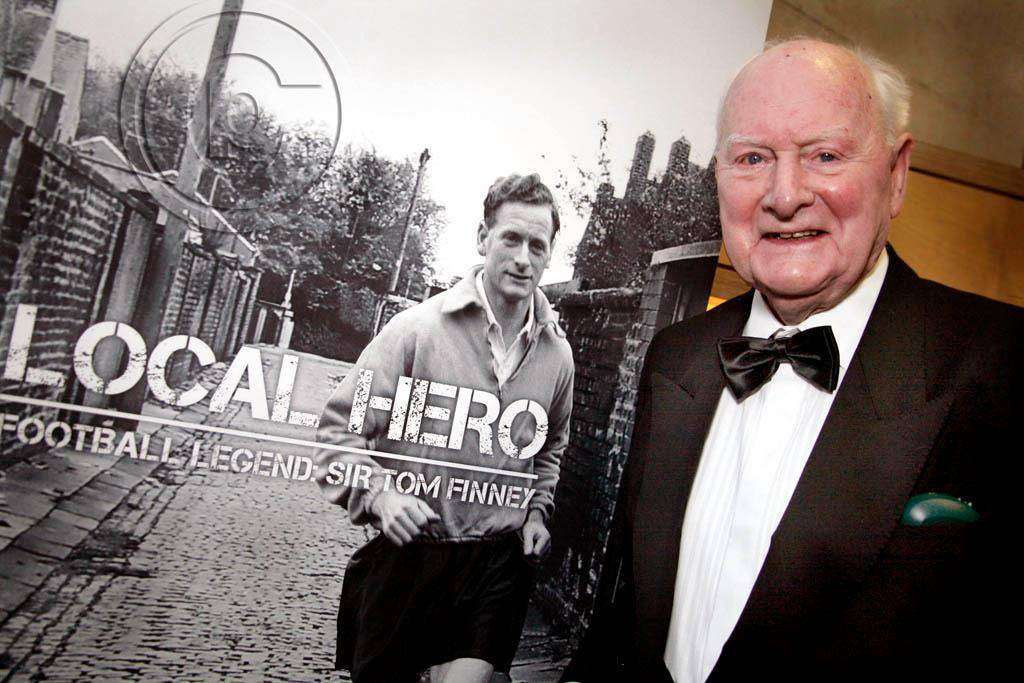 | | | |
| --- | --- | --- |
| | Appearances | Goals |
| Preston North End – League | 433 | 187 |
| Preston North End – FA Cup | 40 | 23 |
| England Internationals | 76 | 30 |
| The Football League | 17 | 7 |
| Career Total | 566 | 247 |
Scored on both his Preston and England debuts
Scored on his England debuts at outside-right, outside-left and centre forward
Scored on his Preston debuts in all five forward positions
Made 71 appearances in Division 2 (now The Championship) and scored 23 goals
Scored in eight consecutive Preston appearances in 1957-58
Played for England in 21 countries against 23 different teams
His only hat-trick was for England in 1950 against Portugal in Lisbon when scored four of England's five goals in a 5-3 victory
His best League season for goals was 26 in 1957-8
His best season total was 28 league and cup goals in 1956-7
Scored 35 penalties for Preston and missed 11
His worst run without scoring was 12 games in 1949-50
Scored against 42 different teams in the league
His best scoring record against any team was 11 against Manchester City, followed by 10 against Bolton, Portsmouth and Sheffield Wednesday
Scored most penalties (four) against each of Spurs and Bolton
Scored six goals in total for England against Portugal and five against Wales
Set an England scoring record with 30 goals
Was the first person to be voted 'Footballer of the Year' twice, in 1954 and 1957
Wrote two books – 'Finney on Football' and 'Football Around The World'
Had a play written about his life that was performed in Preston
Won a Second Division Champions medal in 1950-1
Won League Championship runners-up medals in 1953 and 1958
Won FA Cup runners-up medal in 1954
Appeared at Wembley in 16 internationals, one FA Cup final and one Wartime Cup final.
Was awarded the OBE in 1961
Was knighted at Buckingham Palace in 1998
Was inducted into the National Football Museum Hall of Fame in 2002
Sir Tomwas the current Preston North End President
Sir Tom unveiled the water feature sculpture 'The Splash' outside Deepdale in 2004. The sculpture is inspired by the 1956 Sports Photograph of the Year which features Tom Finney beating two defenders at a waterlogged Stamford Bridge.
Finney's face was replicated into seats of the first of the new stands – The Tom Finney Stand – at Deepdale in 1996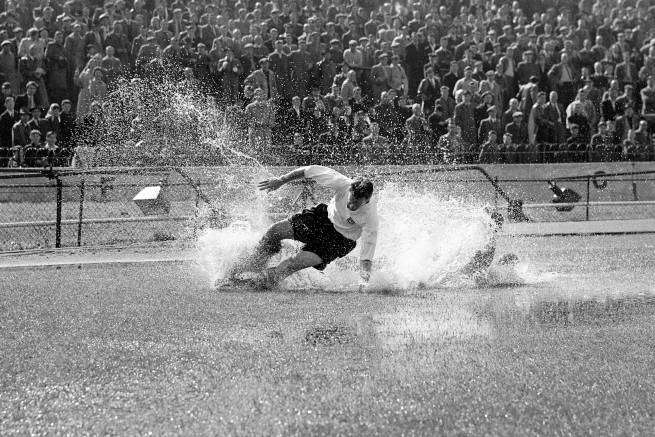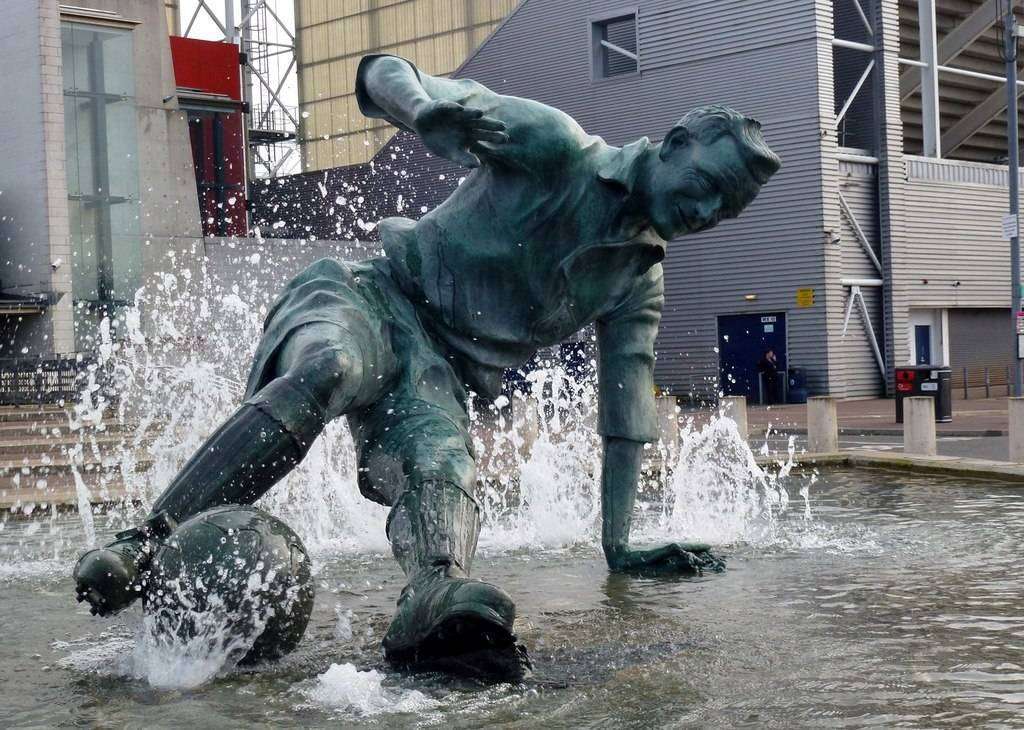 Sir Tom Finney RIP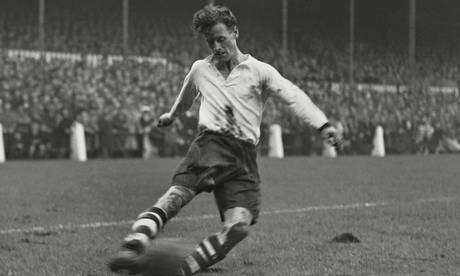 Tom Finney playing for Preston North End in 1949: his friend Bill Shankly said that he "would have been great in any team, in any match and in any age … even if he had been wearing an overcoat".
Tom Finney, who has died aged 91 was perhaps the most complete British footballer of all time, yet he failed to win a single major honour for either club or country. Blessed with exquisite balance, skill and tactical intelligence, he played the game with a grace – or indeed good grace – given to very few: he was never booked, sent off or even ticked off by referees. Stanley Matthews may have been the public's favourite, but to purists Finney was the greater all-rounder.
In the era of the maximum wage and before players enjoyed freedom of contract, there were many single-club players. So integral did Finney become to Preston North End, staying there from the age of 14 until retirement at 38, that when he went the club virtually went with him, relegated to the second division, never to return.
His brilliance inspired and often carried the team. Bill Shankly, an established right-half for Preston when Finney joined (and later manager of Liverpool), said of his friend: "Tom Finney would have been great in any team, in any match and in any age … even if he had been wearing an overcoat." It was classic Shankly hyperbole, though few who saw Finney play would disagree with the sentiment.
Finney had a glittering career, but little silverware to show for it – the price he paid for loyalty. The only medals he collected were for the 1941 Wartime cup (not regarded as a full football honour), when Preston beat Arsenal 2-1, and the 1951 Second Division championship.
He even remained loyal to Preston when the Italian prince Roberto Lanza di Trabia made him an unimaginable offer to play for his team, Palermo, in Sicily. The prince had seen Finney play for England while they were touring Italy in 1952, and was so impressed he offered him a £10,000 signing-on fee, wages of £130 a month plus a bonus of up to £100 a game, a Mediterranean villa, a sports car and unlimited travel to and from Italy for his family. At the time, Finney was earning £14 a week with Preston (reduced to £12 in the summer close-season) plus a bonus of £2 for a win and £1 for a draw. To top up his wages, England's best footballer ran a plumbing business on the side.
The club refused the transfer outright, even when a £30,000 fee was offered as compensation. Its desperation to hold on to Finney became apparent just a year after he retired. Deprived of its most inspirational figure, this historic small-town club – founder members of the Football League in 1888 and its first-ever champions – went into long-term decline.
Finney was born a street away from Deepdale, the home of the club he would come to embody. He was a slight, sickly boy, hampered by an infected gland in his neck. It was removed when he was 14, and shortly afterwards he gained a trial with Preston. Despite standing just 4ft 9in and weighing less than 5 stone, he was offered a contract to join the ground staff, but his father insisted that he learn a trade. So he signed instead as an amateur part-timer, and became an apprentice plumber – an occupation that would run parallel with (and outlast) his football career and lead to his nickname, the Preston Plumber.
Finney turned professional just after the outbreak of the second world war, which would steal years from his career. He had two excellent feet. A natural left-footer who began as an inside-left, he was switched by Preston to the right wing.
During the war he served with the Royal Armoured Corps and was a tank driver in North Africa and Italy, where he took part in the battle to capture Argenta in April 1945. He was also selected to play for several forces sides in Egypt, once lining up for the Eighth Army against the actor Omar Sharif, who was playing for King Farouk's team.
Finney was given a relatively quick discharge from the army – not to play football, but because plumbers were needed to help with reconstruction. He made his long-delayed league debut for Preston at the age of 24 against Leeds United on 31 August 1946, the opening day of the first postwar season. It was the first of 473 competitive appearances for the club, in which he scored 210 goals.
Many comparisons were made between Finney and Matthews, whom he initially displaced on England's right wing. Matthews was a showman, dubbed "the wizard of the dribble", an out-and-out winger who would hug the touchline. Finney was more versatile, playing in all five forward positions over the course of his career, and could score as well as create goals.
In his autobiography, The Way It Was, published just after his death in 2000, Matthews wrote: "To dictate the pace and course of a game, a player has to be blessed with awesome qualities. Those who have accomplished it on a regular basis can be counted on the fingers of one hand – Pelé, Maradona, Best, DiStéfano and Tom Finney."
Finney made his England debut in a 7-2 trouncing of Northern Ireland in 1946, the first of 76 appearances in which he scored 30 goals, then a record. England looked strongest when both wingers were deployed, with Matthews on the right and the versatile Finney playing out of position on the left. The first time they played this way was in May 1947 in Lisbon against Portugal, who were routed 10-0. Matthews was irresistible, but Finney was in such devastating form that his direct opponent, the Portuguese captain and right-back Álvaro Cardoso, walked off the field in the first half, demanding to be substituted, and would never play for his country again. A year later, the pair outclassed Italy in Turin, Finney cutting in to score the last two English goals in a 4-0 humiliation of the holders of the World Cup, last competed for in 1938.
Finney appeared in three World Cups, though none was truly satisfactory. The imperious English Football Association had not entered the first three tournaments, held before the war, and had its comeuppance when it deigned to enter in 1950 in Brazil. England beat Chile in their first game, but then lost 1-0 to the US, a team of part-timers. The team then lost their final group game, also 1-0, to Spain, and were knocked out.
In 1954, in Switzerland, Finney helped England reach the quarter-finals and scored their second goal when they lost 4-2 to Uruguay. Four years later, in Sweden, he was injured in the opening match against the Soviet Union, which put him out of the rest of England's disappointing tournament. Despite his injury, Finney stayed on the field to put away the penalty that gave England a 2-2 draw.
Finney's personal milestones included being named footballer of the year in 1954, at the age of 32. He collected the award on the eve of the FA Cup final, a game for which he, and much of the nation, hoped he would finally obtain a winner's medal. But Finney, normally so at home at Wembley, played what he later described as his worst ever game for Preston, as they lost 3-2 to West Bromwich Albion.
In 1956, a new Preston manager, Cliff Britton, moved Finney to a deep-lying centre-forward position. Making use of his balance, passing and ability to glide past players, Finney was able to play a more pivotal role in the team. He was a revelation, playing some of the best football of his life, and in 1957 became the first player to be voted English footballer of the year for a second time.
That season, he scored 27 goals in 40 games, as Preston, usually to be found mid-table, finished third in the league. The following season he scored 26 goals and the team were runners-up. They dropped to 12th in 1958-59, when he was able to play only 16 league games, for half a dozen goals.
Throughout his playing career Finney continued to build up his plumbing business, which was very much a going concern by the time he retired in 1960 – this when he had just completed a season in which he played 43 games, scoring 21 goals. He became president of the club, a magistrate and chairman of his local health authority. In 1998 he was knighted.
He married Elsie Noblett in 1945. She died in 2004, and he is survived by their son, Brian, and daughter, Barbara.
• Thomas Finney, footballer, born 5 April 1922; died 14 February 2014
Brian Glanville theguardian.com, Saturday 15 February 2014 10.57 AEST