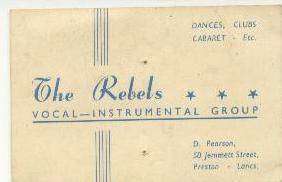 Start Of The Ride
Chapter 02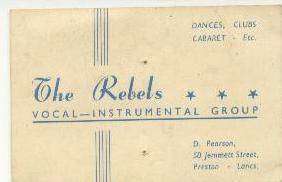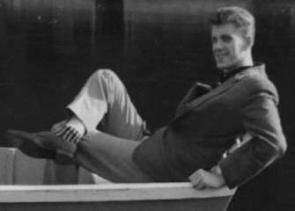 As far as I can recall, the first group I was in was The Rebels, with Reg Welch on guitar and Derek Pearson on Bass. Sadly I have to report to you that Reg passed away in March 06. He was a good guitar player and went on to play with Freddie Starr and the Midnighters.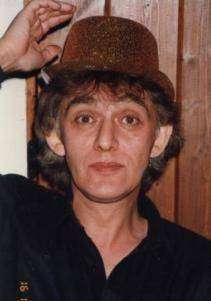 We used to play regularly at Maria Gorettis Youth Club and St. Gregory's School, and we always used to practise at St Greg's, which is where I first met "Miffy" a Preston legend, who not only became a close friend, but also spent some time as The Puppets 'Roadie'. Miffy went on to front his own band, David John and the Mood, and had a measure of success with it.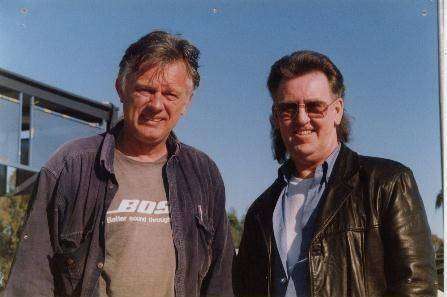 Have a look at this pic… It's a guy here in Australia by the name of Broderick Smith, singer with The Dingoes. They had a hit with 'Way Out West' in 1973, and guess what folks… Broderick is Miffy's cousin!
I met Broderick when he was performing at The Eureka Tavern, one of my quiz night venues. Now, back to the story…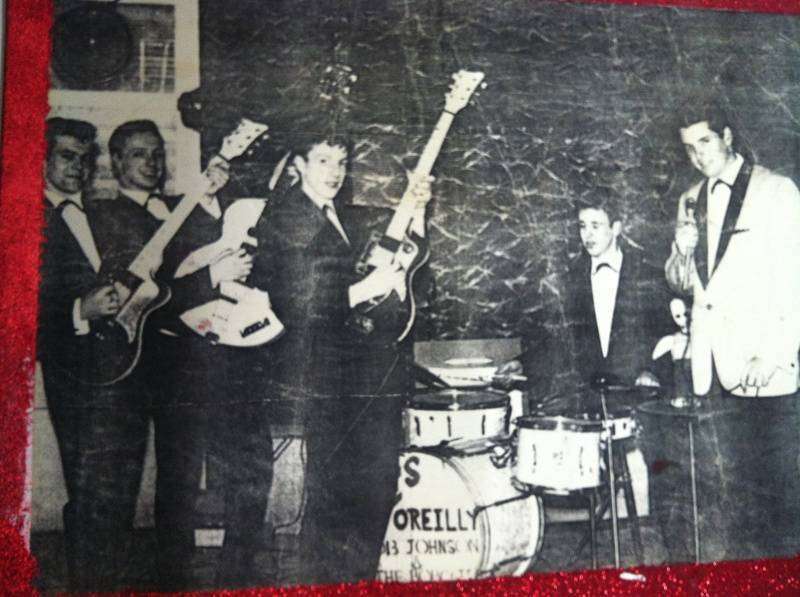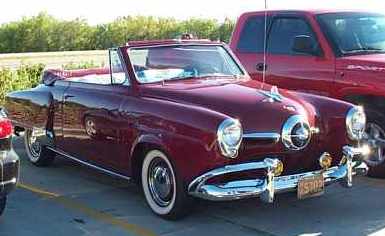 The name group around Preston was Bob Johnson and the Bobcats and I made it a goal to join them, which I did. Bob Johnson was fantastic, a bit older than me, (sadly Bob passed away on the 7th May, 2011). I was the kid, so imagine me turning up for the gigs in Bob's motor, a fire engine red big American Job a Studebaker I think it was. It had a large bullet nose, which protruded through a very shiny chrome ring at the front. Couple that vision with the band members in black silk roll collared tartan jackets, in dark green, and Bob with a salmon pink dinner jacket with black silk roll collar and black pants! Well, were we serious or what?
Lots of gigs, stacks of experience with the best band around, then all of a sudden Bob was gone. We continued on as The Bobcats, and soon we started a residency at The Catacombs Cellar Club six nights a week, from 8.00pm till 2.00am, and Sundays off. We moved into '62 and were offered a contract to play American Bases in France, but we had to have a female singer.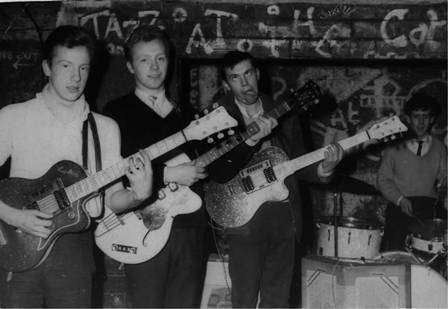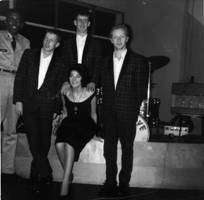 We recruited Anne Marie A singer from Preston who we had already worked with a few times, backing her in clubs etc. We were booked through a guy called Ted Easton, to start at a base called 'Capsieux', which was near St. Germain en Laye, on the 1st July, 1962. This was our first contact with the Americans who liked our music, and we made some instant friends.
Times for young bands were tough, we barely had enough money to actually get there! Starving, sleeping in the van, we hunted for ages for the source of a very bad smell, it turned out to be one of the band member's socks!! On the trip from Calais to Paris, about 300kms., we stopped at the side of the road somewhere in the countryside because we had seen some chickens wandering about.
Reg Child, sadly no longer with us, after a fatal crash at a Go-kart event, racing under the name of 'Wild Child', was known to the Yanks as 'JC' and had those very initials on the front of his top hat which he often wore! I can't let this account go without a few words about Reg, a man I'm glad I met, an extremely funny man and one of those guys that could do just about anything, and just about did!
Reg caught one of the chickens and prepared it, he then disappeared into the field and returned with his top hat full to the brim of potatoes. We then built a fire and had a very tasty meal indeed, of Roast Chicken and jacket potatoes? Luxury! We hadn't eaten for a couple of days, it was delicious!!
Just a couple of days later it's July 4th, American Independence Day from the British. After the show we went out in the van with some GIs on board to celebrate this auspicious occasion. We went to many bars, and got well pissed, in fact I passed out in the back of the van! The next thing that happened was I was awakened by some sort of noise, I opened one eye, and saw this little black dot which turned out to be the front end of a gun that was being pointed at me by a Gendarme!!!! Yes, a French policeman, was pointing a gun at me and shouting at me 'Allez Allez'!! It's funny how under conditions like that, one seems to sober up instantly. What had happened? Why was the Gendarme in the back of the van? What had gone wrong? How come I was able to understand him? I don't speak French!!!
Well?
Apparently, we, that is the van, had run out of petrol. I am still passed out in the back of the van don't forget, when two of the band members, I don't think it would be right to name names, left the van to see if they could get some petrol. They didn't have all night petrol stations back then, so they took with them a can and a piece of rubber tubing which we always kept in the van for just these sorts of emergencies.
Off they went, they found a vehicle and one of them syphoned off the petrol into the can, by sucking it through the tube, then spitting it out. He filled the can then put his finger over the end of the tube and said to the other one I'll keep my finger over the end of the tube, so as I don't have to suck it through again, you take the can back to the van, put the petrol in, then bring the can back and we can have some more?
It's all going well at this point don't you think??
On the way back, the one carrying the can, for whatever reason, decided to try to gain access to other vehicles too. When he appeared back in the street where the van was, he had a blanket over his shoulder containing all sorts of items that he had taken from several cars he had broken into. The French Police arrive, it's the middle of the night and they were not happy! In fact 'Les Miserable' they took us back to the police station and had us drive right inside the compound at the back.
It was only then that I woke up, to the sounds of the very irate French Gendarme who was pointing his gun at me, shouting 'Allez Allez'! What would you do? I 'allezed' really quickly. There was about a dozen of us altogether, the band and friends, and some GIs. They put us in this cell, which was really strange. It smelt damp, but even tho' the room itself was a normal size room, there was just enough room for the door to open. You see, inside the room was a wooden platform covering the whole of the floorspace, and the platform was on a slope. At the door end it was about two feet off the floor, and by the time it reached the far wall, it would have been about four feet off the floor. So we were all made to lay down on the board so to speak, and this big Gendarme kept coming in and hitting us on the soles of our feet with his big French truncheon! Weird? I thought so as well. Incidentally, we found out what French Gendarmes put in their sandwiches…
Truncheon Meat? Voila!!

In the morning we were shown upstairs, and told to sit. There were two rows of chairs facing each other, about six feet apart. This one particular Gendarme, who incidentally looked exactly like what you would expect a Gendarme to look like, with a pencil thin moustache, bulging eyes and a pot of Yoplait in his hand… OK I lied about the Yoplait, probably wasn't even invented then, but I'm sure you get the picture, kept walking up and down between us twirling his truncheon in an exaggerated fashion. Then he would spin on his heels and do the same the other way, over and over again. It was the sort of thing that you would imagine Peter Sellers would do whilst taking the mickey out of the French!! It was really hilarious…
We then got shown into an office where we received a huge verbal bollicking from this guy, magistrate I think. I then remember him telling us we had twenty four hours to get out of France – 'Or Else' – he pulled his extended first finger across his throat – 'The Bastille', he said! We were taken out of the room and along the passageway which came to an end at a window. The Gendarme behind us, the one with the gun, was motioning us to climb through the window! 'Allez Allez'! Oh no, he's off again!
Well we climbed through the window onto a flat roof, the guy at the back is still 'Allezing' loudly, so we fanned out across the roof as a single line. Hey, we are on a flat roof and slowly walking towards the edge – wondering things like – what's going to happen? Is this guy going to shoot us or maybe force us to jump off the roof to be dashed on the street below?? My mum wouldn't like what was happening to me at all. Oh no, not at all.
All of a sudden a voice shouted 'Arret' [stop]. We turned to look and saw another Gendarme with a camera motioning to us to 'smile' and he took our photograph!! Funny people the French. We high-tailed it, or was that low-tailed it, back to the base and hotel, packed up all the gear, and set off to drive the 300 odd kilometres to Calais to catch the ferry back to England. By the time we got there the last ferry had gone for the day.
Oh No! No more 'till tomorrow' But they told us, they said if they catch us, they would throw us in jail!! So we found a forest [as you do] and drove deep inside, got out of the van and covered it with tree branches and the like, so as no-one would know we were there.
The following day we caught the first ferry back to England, it was only then that anyone thought to contact Ted Easton, the agent in France, to tell him what had happened. We spoke on the 'phone and he said he would sort things out. We went to London for what turned out to be the rest of July, as I recall we slept on the benches and the floor of a club in Soho, called 'The Blue Gardenia'. We returned to France, stayed for several months, and had a ball! In the latter stages in France we, for whatever reason, used to travel with an inflated condom tied to the van's ariel. We did this for a few months all through France, then when we got back to England we were pulled by the cops at a place called Bamber Bridge, just on the outskirts of Preston, 'cos they deemed it to be offensive.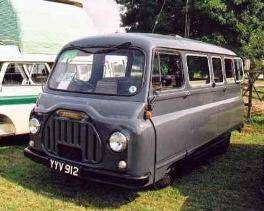 Another thing about the van – we painted a large cats head on the back door of the van and that night, driving back to the hotel, we ran over and killed a cat. We painted a long bodied cat along the side of the van, and that same night ran over and killed another cat! We never did paint a cat on the other side of the van!!!
One thing that does stick out for me regards the French adventure is the game of Sept, Quatorze, Vingt te Un, I think that's how you spell it. I still don't speak French. Seven, Fourteen, Twenty-one, played in French bars. A circular leather tray with a raised rounded edge – a leather cup and two dice, willing players and your off!! The first player throws the two dice from the cup to the tray, each time a six or an 'ace' as it was called, was thrown, it was recorded. If you threw an ace in your throw, you threw again until you didn't throw an ace, then you passed the cup on to the next player.
The person who rolls the seventh ace orders any drink from behind the bar. Now along with all the regular alcoholic drinks available, French bars also served Tea, Café au Lait, chocolate, milkshakes, all kinds of things. So as the game progressed you can imagine the concoctions that were ordered, often very strange indeed. The player who rolls the fourteenth 'ace' has to drink the concoction, and the one who rolls the twenty first 'ace' has to pay for it. A crazy crazy game we played and enjoyed often.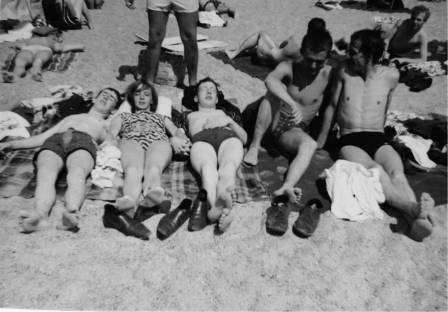 This pic was taken on Blarritz Beach, the day we got sunburnt! The Yanks told us if we had been in the army we would have been charged with negligence for getting sunburnt!! And let's not forget, we were there at the time of the Cuban Crisis in October '62 for about a week, you could cut the tension with a knife! Gee folks the yanks were hyped, ready to go, full battle dress at all times, tension in the air that week. Come to think of it not much changes does it? It's now 2011 and they are still hyped up, and full of tension.
Scary stuff at the time though!!!